While we are working on a major feature release we are also releasing a series of minor updates to Saasu that'll make your accounts work smoother.
New Accounts Receivable and Payable dashboard widgets
UPDATE: We've added an "ALL" option to see the full list of invoices
It's now easier to keep track of who owes you money and who you owe via consolidated totals for each Contact using the Summary tab.
The widgets always show you the total at the bottom so you can see where you're at, at a glance. The pages allow you to move through all the transactions without filling up the dashboard with big long lists of outstanding invoices.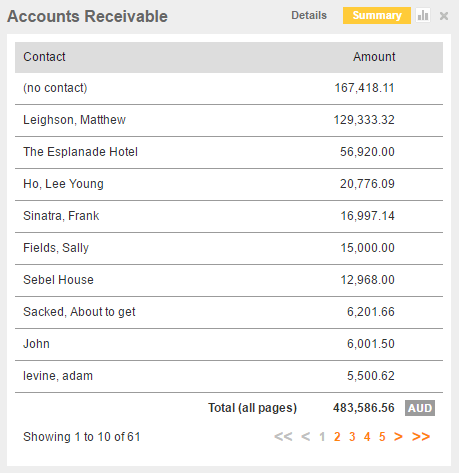 New tablet friendly reporting
We started a series of updates to our reports driven by the need for better mobile and tablet support plus the desire for less scrolling which means using as much of your screen for the actual report content.
Performance improvements, extra filters and new export to spreadsheet options are also being added in these updates.
To date we have updated these reports in part (there will be more in report features to come):
General Ledger Detail
Balance Sheet
Transaction by Account
Profit & Loss Summary
Sales
Accounts Receivable
Purchases
Accounts Payable
API additions
Our API users now have the ability to filter the inventory item list by last modified date. You can also work with "Attributes' in the new API. We are going to make some more changes as we head toward deprecation of the old API next year. To see the current API capabilities visit api.saasu.com