JobMaker Scheme
For detailed information on how Employers should enrol and manage JobMaker please refer to the ATO guidance here.
Notify the ATO of eligible employees
If your preferred option is to use STP reporting in Saasu, you will need to identify them as eligible by setting up and reporting an Allowance Pay Item;

Click on View > Payroll > Setup Pay Items
Click Add: Wage and Salary
Allowance Type – "Other"
Name – "JMHC-NOM"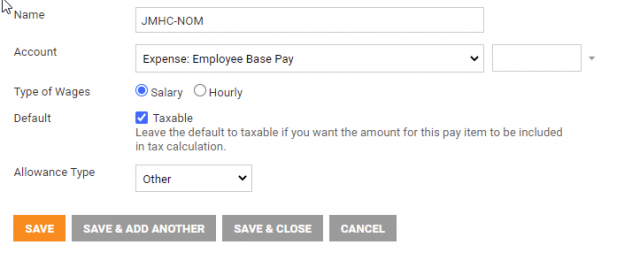 When an employee has met the minimum hours:
When a nominated employee has met the minimum hours for JobMaker, the employer needs to report which quarter they would like to claim for. For this you will create another Wage and Salary pay item with Allowance Type "Other". The Description will be JMHC-PXX e.g. JMHC-P01 where XX is the period they are claiming for.
This code will then be processed through your payroll entry. As with the previous code, if this is via a payrun you can process this with $0.00, alternatively a manual payroll entry will need $0.01.
Please refer to the ATO table below;